The sofa is probably the largest piece of furniture you have in your living area. Sofas can look lonely all by themselves so let's explore some "friends" that you can place in front of your sofas.
When you're sitting on your couch, you'll likely want a place to hold things like food, drinks, and magazines. There are also, however, options that can be placed in front of your sofa that can provide storage or simply provide a sense of proportion and balance in your living room.
Here are some of many suggestions that you can consider as items to place in front of your sofa.
A Coffee Table
A coffee table is the logic, and most common, choice. Coffee tables are available in all sorts of sizes, heights, and finishes. A traditional coffee table can have a glass top, can be solid wood, or can be made out of metal or finished with a high gloss to shine as the center of attention in the room.
A coffee table should be chosen in a proper proportion for the size of the room and the sofa in front of which it stands. A large square room would look strange with a small, delicate oval glass-topped coffee table, just as a small room would be cramped with a large, heavy, dark-painted square coffee table.
Before buying a coffee table, place a large piece of newsprint or brown on the floor in front of the sofa to help determine an appropriate size and shape. You can cut down the paper or add to it until you get the right proportion for the rest of the furniture and the room.
England Furniture has a wide selection of coffee tables. Browse our England Furniture online catalog to find the perfect coffee table for your living room.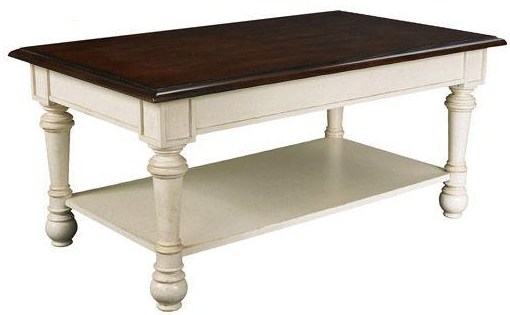 A Large Ottoman
The ottoman is often taking center stage in front of many sofas. An ottoman is simply a large padded or upholstered stool or bench. It's a perfect piece to use in front of a sofa, as its soft top offers comfort for legs, the upholstery fabric contributes color and texture to the room, and the large flat to is ideal for placing a tray or books. Consider our selection of England Furniture ottomans.
An Old Dining Table
This is the perfect place to put a dining table. Of course, you'll need to cut the legs down to the proper height (between 15″ and 22″) for your seating space, but the large surface will be convenient for many purposes, including homework, playing games, crafting, and entertaining.
A Pair of Small Tables
Two small square tables, placed side by side, give a slightly more formal look than the more modern large coffee table. A matched pair looks best, but a mismatched set of small tables, of exactly the same height, can be used together with matching tops. If you have a pair of small antique tables, this may be the perfect place to use them.
A Picnic Bench
Consider a picnic bench for a rustic look. A long, low, wooden bench is a perfect touch. The long flat top works well for placing books and beverages without adding too much formality.
A Piece of Glass on a Base
A large built frame, a pair of cement columns, interesting sculptures, or large pots can serve as a stable base for a piece of 1/2 inch thick beveled-edge plate glass, cut to the perfect size. This is a good option for a very small space, as you can place the bases as close together or as far apart as you wish and have the glass cut to fit your space. Keep in mind that the larger the glass, the heavier it will be. So the bases need to be sturdy enough to support the weight.