Care and Maintenance of our Upholstered Furniture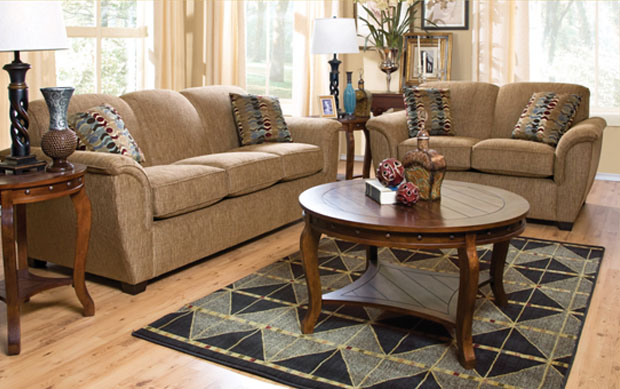 England Furniture is upholstered with various fabrics which enhance the beauty of the furniture as well as the decor of your room setting.  To insure your selection of upholstered furniture retains the beauty and appeal for which it was chosen, it is important to provide proper care and maintenance.  Practicing some easy tips with regular attention can provide many years of enjoyment and keep your England furniture looking its best. Click on the "Furniture Care and Maintenance" category for more information.
Also discover some care and maintenance tips by visiting the pieces under the England Furniture  How-To Articles category and explore some featured England Furniture products by visiting the pages under the  England Furniture Featured category.
---
Vacuum and Brushing England Furniture
A regular weekly vacuum prevents the accumulation of dust and dirt within the fabric. The vacuum of England Furniture should be gentle but thorough.  Aggressive abrasion of the vacuum head over the face of the fabric can cause yarn fibers to break and tear.
Do not use a  rotating brush or beater bar attachment.  Light brushing with a soft bristle brush is best for the gentle removal of any accumulated soil.
A weekly vacuum of the upper surfaces with a monthly full surface vacuum and brush works well under conditions of normal utilization. The monthly full surface vacuum and brush is an excellent opportunity to remove the cushions and vacuum the seat deck of any dirt, fiber, or other particles that may have accumulated.  The cushions should be turned and rotated when placed back into position.
---
Spot Clean England Furniture
If spills result in a stain, spot cleaning is best for removal. Before spot cleaning, it is important to know the fabric cleaning code.  The cleaning code provides specific information regarding fabric cleaning methods recommended by the Joint Industry Standards Committee.
Manufacturers, based on information from their fabric sources and laboratory testing, add an alphabetical symbol to each new fabric swatch denoting the cleaning method. Symbols and their meanings adopted by the Joint Committee are as follows:
Code "W" Clean only with water based shampoo or foam upholstery cleaner. Do not over wet. Do not use solvents to spot clean. Pile fabrics may require brushing to restore appearance. Cushion covers should not be removed and laundered.

Code "S" Clean only with dry cleaning solvent. Do not saturate. Do not use water. Pile fabrics may require brushing to restore appearance. Cushion covers should not be removed and dry cleaned.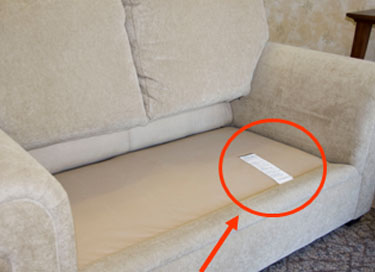 Code "SW" Clean with shampoo, foam or dry cleaning solvents as desired. Do not saturate with liquid. Pile fabrics may require brushing to restore appearance. Cushion covers should not be removed to launder or dry clean.

Code "X" Do not clean with either water or solvent based cleaner. Use vacuuming or light brushing only.
It is extremely important to pre-test your cleaning method on a hidden area of the fabric to determine if the colors bleed or if the fabric shrinks. When in doubt, seek the help of a professional furniture cleaner.

---
The fabric cleaning code for England Furniture can be found on the law label typically located on the seat deck or the underside of the frame.
Routine care and maintenance of England Furniture keeps it looking fresh and vibrant while providing full longevity to the fabric, cushions and overall condition. These steps, along with periodic professional cleaning, can provide many years of comfort, pleasure and satisfaction with your furniture selection.
ENGLAND FURNITURE FREQUENTLY ASKED QUESTIONS?
Explore the commonly asked questions about England Furniture in our England Furniture FAQs section of this site.