The perfect living room is not only visually appealing, comfortable, and inviting. It also has a place for storage and is free from constant clutter. If you find you have more things, than places for them then these tips may be useful for you and your living room.
Wall Space
Find standard open wall shelves of any size at a home improvement center for an inexpensive storage solution for books and decorative objects. A structured wall unit or entertainment center can house books and electronic equipment and provides space for decorative displays. If you're going to stay in your home for a while, you might want to invest in custom-made shelves or cabinets. Any of these solutions gives lots of storage space without protruding too much into the living area.
Ottomans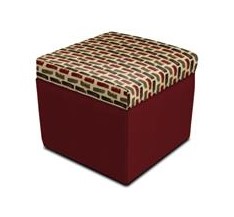 Storage ottomans are a classic hideaway solution. Stylish storage ottomans can store a good bit of items and then are helpful as extra seats. Tuck them away under a floating shelf when you don't need them.
Look Up
There is probably nothing higher than 5 feet in your room, but there's lots of space above. Install shelves 12″ to 18″ below the ceiling to display collectibles, plants, hats, or photos.
Goodbye to Closet Doors
Consider removing closet doors. Many doors (even the folding style), eat up lots of floor space and that means less room for furniture and for storage options. Use a curtain closure instead. It's streamlined and the door doesn't affect the ideal flow of the room.
Behind Closed Doors
It's ideal not to have to look at the things you're storing, unless they're decorative. Increase available storage space by enclosing shelves and cupboards behind doors. Instead of using an open one, choose a bookcase with doors. A 12″ deep shelving unit gives great storage without taking up much floor space. Choose a table for the end of a sofa or beside a bed that has a closed base with drawers or shelves rather than spindly open legs. Find a knee-hole desk with drawers for files and office items rather than an open writing desk.
Over the Window
Mount a shelf above the windows of the room for displaying things you don't use but love to look at.