A sofa can be the centerpiece to your living room and it's typically the piece of furniture that people notice first.  Many people change the style of their living room frequently, put they're often not sure how to match a sofa color with the rest of the room's color scheme.
While bold and bright colors are quite trendy right now, it can be hard to re-decorate with a bright lime green sofa. Whether you paint your walls blue, gray, yellow or red, your sofa should always go with the rest of the room.  We have a few tips and tricks to help you find a sofa that matches your versatile style.
One color that is very neutral is cream.  Many people are nervous about a white sofa and cream is a great alternative. A cream sofa will offer you considerable versatility. If a cream colored sofa is still too "white" for you there are darker alternatives. The colors tan, camel, or biscuit are warmer than cream, but they still provide you the versatility you're looking for. Still looking to go darker? Brown is also another color that works well in terms of flexibility.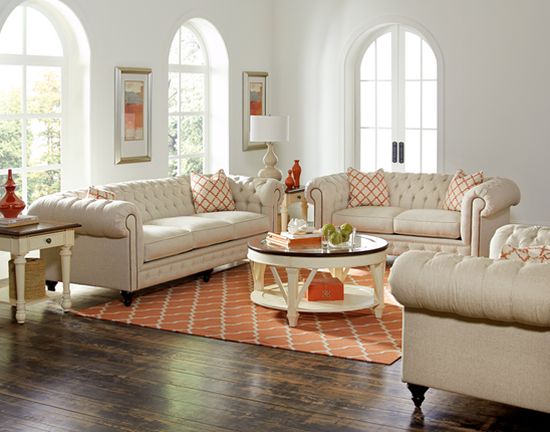 If you're looking for something completely different it is recommended to go with a gray colored sofa or soft muted colors. Like the color black, gray tends to go with all types of colors, therefore making it very adaptable. Muted colors tend to be a bit bolder. While they are still very versatile, they give you that pop of color many seek in there color scheme.
Throughout our lives, we experience a lot changes, including in our homes.  England Furniture can help you choose a sofa color and style that is perfect for YOU.